Communication Towers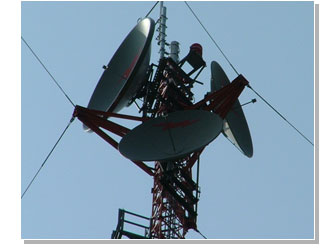 Specializing in the design, manufacture, installation and maintenance of tower systems for the broadcast and telecommunications industries.
We are specialists in the design, supply, installation, antenna servicing and maintenance of towers and related structures for the Broadcast, Telecommunications, Cellular, PCS, VHF/UHF Mobile Radio and the tower industry in general.
To ensure the highest quality under our single-source, comprehensive service philosophy, Schindler Abroyd provides all essential design and engineering functions in house, employs specially trained field crews, and maintains an extensive variety of installation equipment. All of the components that we install are manufactured either in our Cambridge, Ontario plant or under strict guidelines by our highly competent, carefully selected suppliers.
Our highly specialized tower services include:
The design and construction of roof mounts for any purpose.
Analysing, assessing and upgrading existing antenna support structures to meet the requirements of the latest CSA standards, whether to determine existing antenna loading or to assess the possibility of adding new and/or different antennas.
The supply, installation, alignment and testing of antennas and transmission lines.
The design and construction of foundations for towers and small buildings.
Management, inspection and coordination of all site works, including soils investigation, site clearing, fencing, site grading, building access roads and related activities.
The supply and installation of equipment shelters and small buildings.